Thanks for Registering for Google AdWords For Dummies Companion Resources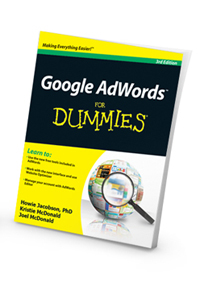 Welcome to the good stuff, and thanks for registering.
You now have access to the videos and other material created to supplement the 3rd Edition of Google AdWords For Dummies. (All the links are on this page – just scroll down to find the one you were looking for just now.)
There's a lot of stuff here – much more than you should consume in a single visit. So any time you want to come back, simply login with the ID and password you just used to register. Go ahead and record those somewhere so you won't forget them.
From time to time you'll get emails from us letting you know about important AdWords changes, new strategies we discover, useful articles, updated videos, and other Stuff You Should Know To Use AdWords Profitably.
You can unsubscribe at any time – we thoughtfully include a "Go away" link at the bottom of every email (yes, it's the law, but we're still proud of ourselves).
We will NEVER share your information with any third parties (we hardly get invited to parties anyway).
We apologize that at the moment you can't jump straight to the page you were looking for. It turns out this is more complicated than we thought. We've hired an infinite number of monkeys to sit at keyboards and churn out code, and we're confident that one of them will get it right quite soon. In the meantime, here's a short table of contents (below) to help you find what you came here for today.  For a detailed description of the resources, go to Google AdWords For Dummies Content Descriptions.
Thanks! and Enjoy!
Chapter 2: Setting Up Your AdWords Account
gafd3/buckets – Organizing ad groups (keyword buckets)
Chapter 5:
gafd3/conversioncode – How to add AdWords conversion code to your website
Chapter 8: Writing Magnetic Ads
gafd3/checkmate – Download Checkmate matrix & analysis examples
gafd3/avatar – Introduction to creating an Avatar
gafd3/dki – Dynamic Keyword Insertion – instructions & examples
gafd3/adwizard – How to create display ads using Display Ad Builder
Chapter 9: Landing Page Rules and Strategies
gafd3/lp-seo – Pleasing the Google Spider with Relevant Landing Pages
gafd/audio – How to Create Audio Testimonials
gafd3/wso – Tutorial on using Google Website Optimizer
Chapter 10: Saving Time with AdWords Editor
gafd3/editor – Tutorial on Using AdWords Editor
gafd3/editor-backup – Creating Account Backups using AdWords Editor
Chapter 11: Using Keywords
gafd3/mbm – Modified Broad Match Discussion
gafd3/embedded – Negative Embedded Match Examples
gafd3/priority – Using AdWords Editor to Prioritize your Keywords
Chapter 12: Implementing Customized Strategies
gafd3/searchreport – Using the Search Term Report to manage your keywords
gafd3/mobilebuilder – How to create a Mobile friendly landing page
Chapter 13: Analyzing the Numbers for Maximum Performance
gafd3/demographic – Updates to the Demographic Segmenting feature
gafd3/automatic – Managing Display Network placements with the automatic placement technique
Chapter 14: Improving Effectiveness with Split Testing
gafd3/experiments – How to Setup AdWords Experiments
Chapter 15: Website Optimizer
gafd3/install-tags – Installing code on your web pages for Website Optimizer
gafd3/multivariate – Advanced testing methods using multivariate testing
Chapter 16: Cloning Your Campaigns For Better Results
gafd3/cloning – Campaign Cloning – Instructions & Examples
Chapter 17: Following Your Best Prospects Around the Web
Chapter 18: Getting More Visitors Everywhere Else
gafd3/cpm – CPM vs. CPC Calculator